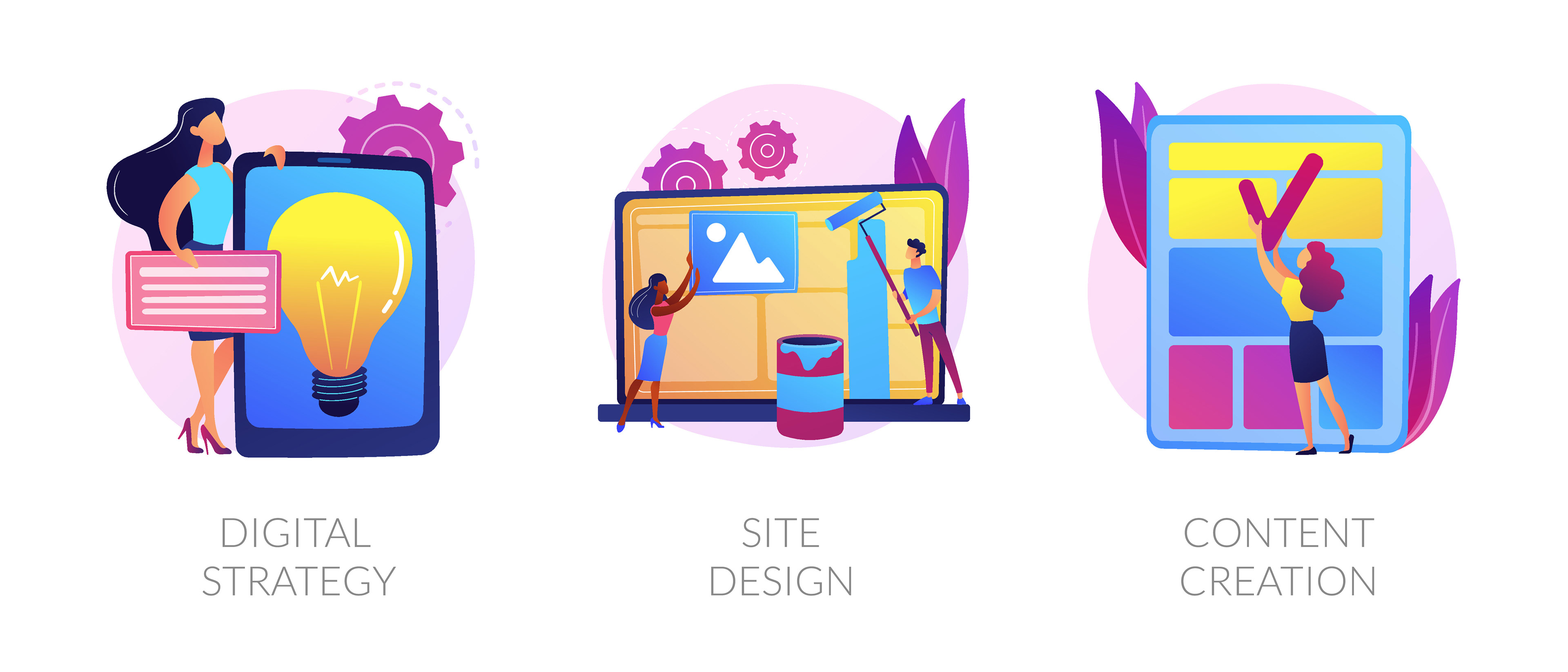 I'm so excited that you're here! It means you're ready to receive a little help growing your sustainable business and I am here.for. it!!
So this is what it's like to work with me:
1. We uncover your brand story -- the who, what, and where of your brand -- so we know who we're building content for
2. Then I work my magic on your graphics and website, creating your signature brand. It's like giving birth; your brand is sort of like you and sort of like your ideal people!
3. Next we talk about your client's journey. We want you to have the right content, at the right time, in the right place. We can craft that whole journey together or just do parts of it at a time as you can fit it in the budget. Either way, we'll make sure your website and copy are set up with best SEO (search engine optimization) practices in mind so you can grab that glorious free organic traffic.
4. Finally, we'll make some cool stuff together to support your client journey. Email marketing, sales funnels, blogs, pillar pages, ads, social media, courses... you name it, we can do it. But we'll be strategic about it.
My work is a combo of coaching, mentoring, website design, and graphic design. I'm like your marketing fairy godmother, here to get you ready for the ball so you can woo client charming! 
Your investment includes strategy sessions + optional content execution to build your Free Sample Sales System if desired. Strategy Sessions are $150/hour and content starts at $300/item. An opt-in/lead magnet is an example of 1 item.
- You have an inspirational business, like parent coaching, life coaching, or you create products that are soul-inspired
- You believe in receiving love and help
- You trust yourself or are working on it!
- You're very motivated to take action and be successful
Do you want to work with someone who doesn't believe in you? Of course not! I bet if you're here, you believe in you, and know that I will, too!  :) 
Want to get started on your project?
Please use the button below to fill out my design questionnaire. If you're ready to get started right away, jump on over to the Contact page and schedule a free coffee chat! I'm here for you. I believe in collaboration and the power of relationships. Let's connect!
"Music in the soul can be heard by the universe." 
Nice to meet you! I'm Beth Rowles. I'm a wife, mom of two littles, former RF Engineer, author of The Authentic Wife, founder of The Family Alchemists, and I'm a certified Conscious Parenting Coach and Practical Reiki Master. I live outside of Cleveland, Ohio, but I'm from South Carolina. I'm a super (mentally) healthy Enneagram 5w4, which means I LOVE to learn! I'm also incredibly productive and a great problem solver. 
When I started coaching, I realized I needed to learn new skills in business and online marketing. My passion to help families broadened by supporting everyone who helps families! I love to help connect you to the people who need you most.
My biggest business challenge?
Staying focused. I love so many things, it's hard for me to have the dedication to promoting just one thing! :)
CREDENTIALS
(If you're into that sort of thing):
The Fundamentals of Digital Marketing Certification, Google Digital Garage
Learning Personal Branding, LinkedIn
Content Marketing Certification, HubSpot Academy
Email Marketing Certification, HubSpot Academy
Bachelor of Science, Marketing Management, Western Governors University (anticipated Nov 2021)
Certified Parenting Coach (Jai Institute for Parenting)
Former Radio Frequency Optimization Engineer for giant telephone company (the geek runs deep, I'm good at making things better)
You can learn even more about me on my website, www.bethrowles.com